Through Vision for EQuality, the Pennsylvania Waiting List Campaign was established in 1997 in response to the outcry of people in crisis across the Commonwealth. Through continuous advocacy we brought interests of people and families to the forefront through:
A long Term Plan to Address the Waiting List for Intellectual Disability Services in Pennsylvania.
Development of the book, "Understanding the Intellectual Disability System in Pennsylvania."
Pressed for a Caucus for People with Intellectual Disabilities
Participated in the 2008 Joint State Government Commissioned Report addressing the Waiting List
Our History
Vision for Equality began the PA Waiting List Campaign in 1998 to address the systemic problem of individuals with intellectual disabilities on waiting lists in PA. Over the past 17 years, the Waiting List Campaign has been educating families, government officials, the public and the legislators about the impact of waiting lists on the health, safety and welfare of people with intellectual disabilities. We have influenced positive system change since our inception and have embraced the concept of self advocates and families working together with other stakeholders to achieve our goals.
History of Success
Evidence of the PA Waiting List Campaign (PAWL) efficacy is demonstrated by the increased funding in the Office of Developmental Programs specifically allocated to serve those waiting for services. A review of Pennsylvania's State Budget clearly demonstrates that PAWL has been very successful in securing funding. The chart below shows the amount of new state funding in millions of dollars that have been infused into the system to serve those who wait. This chart shows the history of state funding initiatives going back to Governor Ridge in 2001 through fiscal year 2007/2008.
| Fiscal Year | PA Budget Initiative in Millions | Number of People Served |
| --- | --- | --- |
| 2001/2002 | $42.9 | Unknown |
| 2002/2003 | $18.1 | 1,175 |
| 2003/2004 | $1.7 | 56 |
| 2004/2005 | $15.3 | 531 |
| 2005/2006 | $35.5 | 955 |
| 2006/2007 | $16.8 | 885 |
| 2007/2008 | $78.5 | 3,428 |
The dramatic increase in waiting list funding in 2007 was a direct result of a face to face meeting with Budget Secretary Mary Soderberg in 2006. The Waiting List Campaign invited families from all over Pennsylvania to Harrisburg to share their personal stories. During that meeting, the Secretary realized the tremendous challenges that individuals and families face when trying to access supports. The following year, more than $78 million in state monies was earmarked by Governor Rendell for those on waiting lists.
From 2008 through 2015, the Waiting List Campaign faced many challenges in securing state funding to serve people waiting. The Great Recession brought significant financial difficulties for state and federal budgets and individuals and families on the waiting list continued to suffer.
To overcome the significant challenges, PAWL re-doubled their efforts to bring the struggles faced by families and individuals waiting for services to the attention of our legislators.
This chart shows new state funding specifically for the waiting list by fiscal year from 2008 to 2014, and clearly demonstrates the impact of our work.
| Fiscal Year | PA Budget Initiative in Millions | Number of People Served |
| --- | --- | --- |
| 2008/2009 | $28.3 | 1,818 |
| 2009/2010 | $15.1 | 793 |
| 2010/2011 | $2.0 | 150 |
| 2011/2012 | $0.0 | 0 |
| 2012/2013 | $17.8 | 1,143 |
| 2013/2014 | $19.9 | 1,180 |
| 2014/2015 | $13.4 | 1,100 |
Waiting List Data
One can also point to the numbers of individuals counted in the Prioritization of Urgency of Need for Services (PUNS) data to illustrate PAWL's impact on the Waiting List. The PUNS form was initially developed, with the direct assistance of Vision for Equality, to accurately count the number of individuals waiting for services in Pennsylvania. Prior to 1999, there was no reliable method for counting how many were waiting.
As the number of people served has grown over time, the number of individuals counted in the PUNS data has been declining since 2007. The graph below shows the total number of people on the waiting list between 2004 and 2014. The reduction in PUNS numbers demonstrates progress toward our goal of ending the wait.
PUNS Data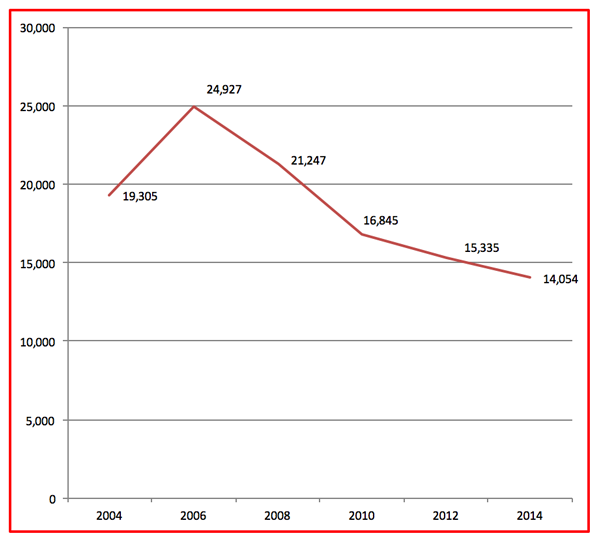 Empowering People to Share their Story
Budget numbers only tell part of the story. Vision for Equality recognized the need to empower families and self advocates to advocate for services. We contacted families through agencies, advocacy groups and parent support networks and invited them to share their stories. We compiled and distributed stories of people waiting, including students graduating from high school unable to pursue employment opportunities or participate in their communities, families struggling to care for their loved ones at home and keep their jobs which provide the financial stability needed for the household, and elderly caregivers who were in failing health and feared for themselves and their sons and daughters welfare.
The High School Graduate Initiative
Faced with a shrinking state budget and up against resistance to any new funding being allocated for the Department of Public Welfare, the Waiting List made a strategic decision to focus specifically on funding high school graduates – which is where the waiting begins for most people. We felt it was important to stress the need for a smooth transition from school to work in order to stop the waiting list from growing and to encourage the recent graduates to maximize their skills and gain employment.
The Waiting List Campaign began a targeted effort to highlight the needs of students graduating from high school. Students with intellectual disability were transitioning from schools at 21, and graduating to nothing. They had no one to turn to for help, no where to go and nothing to do. Vision for Equality stepped up and supported them to have a voice. We included high school students and their parents in our legislative visits and developed a fact sheet to focus attention on their needs. We incorporated stories of recent high school graduates in our newsletters to bring awareness of the issue to the public, the administration and the lawmakers. This effort led to three years of waiting list initiatives to serve all 700 high school graduates each year.
The Elderly Caregiver Initiative
We also began to bring additional attention to the needs of the elderly caregivers in Pennsylvania. The Prioritization of Urgency of Need for Services (PUNS) form includes information about the age of the caregiver, and therefore we were able to quantify the scope of the problem. We brought older caregivers and their sons and daughters to Harrisburg to meet with officials and talk about their lives. If they were not able to travel, our staff went to meet with them and video-taped their stories so that their voices were heard. As a result, the legislators designated funding specifically for caregivers over 60 years old in emergency situations, which helped nearly 800 families over two budget years.