The Campaign Trail, December 2015
December 14, 2015
Wait List Campaign, The Campaign Trail Annual Newsletter
Autism Services in Pennsylvania
The Department of Human Services (DHS), Office of Developmental Programs (ODP), Bureau of Autism Services (BAS) administers two innovative service delivery models designed specifically for adults with autism: the Adult Autism Waiver (AAW) and the Adult Community Autism Program (ACAP). These programs are evidence-based and outcome-driven models which and have been designed to assist participants in gaining the greatest level of independence possible, encourage involvement in community life, improve social skills and provide support to caregivers.
Currently, both programs have reached their budget capacity to support 664 adults with Autism Spectrum Disorder (ASD), which includes proposed funding to increase the Adult Autism Waiver (AAW) capacity by 50 people in the 2015-16FY.
As of December 2015, an additional 2,000 individuals have requested an application for services, and the number of requests is consistently increasing; however, applications are only sent if there is available capacity.
According to the PA Autism Census Study (updated 2014), the number of adults with ASD who will likely be in need of continued services is expected to grow rapidly, rising to over 36,000 adults with autism by 2020. This dramatic growth is expected to continue as more children transition to adulthood and more adults are diagnosed. Most of these individuals will require services across the lifespan.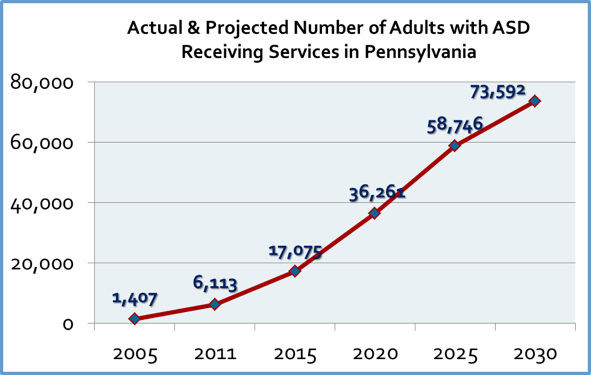 Recent research indicates that adults with autism have higher rates of both medical and psychiatric comorbidities than adults without autism. Without appropriate services, the risk increases for homelessness, law enforcement intersections, expensive hospitalizations and poor quality of life.
BAS is currently examining how to better align and evaluate its two adult service programs, both in terms of efficiencies in internal structure, as well as the evaluation of program services, assessment tools, provider training requirements and program outcomes.
The current Adult Autism Waiver (AAW) expires on June 30, 2016. In the request for a renewal of the AAW, the Department proposes to revise the AAW as follows: revise several quality measures, revise numerous service definitions, increase capacity, add reserved capacity, revise the intake process, and revise provider qualifications. The proposed effective date for the renewal of the AAW is July 1, 2016.
Erica Wexler, M.S. | Sr. Communications & Training Manager
Department of Human Services | ODP | Bureau of Autism Services
801 Market St, Ste. 5071 | Phila PA 19107
Phone: 215.965.0547 | Fax: 215.965.0548
www.autisminpa.org
www.dhs.pa.gov